In about seven years of being active in software testing, I never got to experience any one of the Agile Testing Days conferences as a visitor or speaker. So I was very thrilled when two of my submitted papers were accepted for AgileTD in Cologne, Germany.
The location
AgileTD Open Air is held at "Blackfoot Beach" at the Fühlinger See (a pretty big lake) in Cologne, Germany. Since Düsseldorf is only a short train ride away from Cologne, this was probably the shortest distance I ever had to travel for a conference.
The whole conference takes place on the beach, so it's naturally sandy and breezy. The main stage is covered, but all four sides are open. This can be quite distracting when you want to follow a presentation, as you can see the lake and blue sky in the background. There's also the regular public crowd, so you'll see people bathing every now and then. The conference area is separated by cords, but every now and then a bather strayed onto the premises and asked where to buy fries.
Outside the conference, there was plenty of room for recreation, conversation and leisure activities. The whole event really felt like a vacation in between.
2023-06-13 - Kick-off evening
The day of my arrival, there was a kick-off evening. The official check-in was at 4:00 p.m. and it was like a pre-conference day to get familiar with the venue, the people and the overall organization. This was pretty nice and I haven't seen something like this ever before in a conference.
Invasion of the Gummy Bears: Fighting Back
This was a great session by the legendary Janet Gregory and the first time I have seen her speak live. She was talking about why brains can get stuck (she called it "having gummy bears in your head", hence the title of the talk) and what we can do to fight this. She had a lot of valuable tips like establishing focus sessions without any distraction and taking regular breaks to reflect your progress. Overall, a perfect session to get into the conference mood without being too overwhelming.
Dinner
After Janet's session, there was a BBQ which was really nice. Having food at the beach while talking to a lot of nice people from the software testing domain - what could be better?
Overall, I have to say that the food across all days was quite exceptional. I've been to a conference recently and unfortunately it was a bit different (I'm not naming names).
Social activities
After dinner, there were a number of group activities. However, I did not participate in any of these activities as I felt comfortable just being there and talking to people. I took the first shuttle bus back to the hotel as I had some preparations to make for my presentation the next day.
2023-06-14 - Day 1
I had worked a lot on my presentation the night before, so I took the late bus shuttle to the event. That's why I missed some of the earlier program points of the official first day. I was immediately captured by the conference athmosphere again when I reached the location but this time, it was a strange mixture of stage fright due to my upcoming talk and beach-induced relaxation.
Buzzwords and skills
The first talk I attended was by veteran Huib Schoots who is always full of energy when on stage. He was tallking about how there are so many buzzwords that mean nothing when it comes to testing. In fact, they dilute what testing should be. His mission is to bring back testing techniques and use them to their full potential instead of getting distracted. I really liked his thoughts on that and it resonated with me a lot.
Unit Testing and TDD from the tester perspective
Next up was another premiere for me: seeing my first live talk by Alex Schladebeck, another super well-known speaker in the testing space. She talked about her quest to know more about unit testing and TDD. She not only showed why this is an important practice for software development but also why writing them is not as simple as many testers believe them to be. As someone who transitioned from full-time developer into testing, this was a great talk to listen to that hopefully motivated people in the audience to learn more about this.
I used the time after lunch to rehearse my upcoming talk again. After that I decided to attend another talk.
Code Reading for Testers
Samuel Nitsche is well-known to deliver fun talks incorporating stuffed animals and voiceovers which enable him to have "live" conversations with them on stage. He truly delivered a great talk in which he tried to pursuade his two plush partners on stage to try reading source code. He mentioned a lot of compelling arguments why this is a great way to learn new languages and even taught us some Python in the process.
Combining Force Multipliers to Improve Quality
The next keynote was delivered by Tariq King, probably the speaker that came across as most professional. He talked about different force multipliers that can increase everyones performance and capabilities in our quest to becoming the best testers, developers and overall human beings we can be. This was a really inspirational talk that most probably inspired a lot of people to think about what makes them perform better and how to leverage this in their own career.
After a few hours of free time and dinner, it was finally my turn.
Smoke Tests & Mirrors
My talk was based on my signature session that compares magic principles and software design principles. Up front, I was asked to put in more magic to make this easier to digest and more fun. This was a super setting for it, even if the stage condition was not exactly ideal for it. Still, it was incredibly fun to talk about my true passion, magic, try new tricks and hopefully inspire. I have received a lot of positive encouragement, for which I am very grateful!
Right after I was finished, "The Fairly Drunk Unicorns", a band consisting of testers and led by Huib Schoots, took the stage and heated up the crowd properly!
This was a great conference day!
2023-06-15 - Day 2
Inspired by the great day before, I took the early shuttle bus this time and was not disappointed!
Lean Coffee
Janet Gregory and Alex Schladebeck hosted a "Lean Coffee" session. This was very helpful and something I haven't done before. In a nutshell, this is a way to quickly get feedback to a variety of topics in a short time window. I think everyone at my table got something helpful out of it and I will definitely try out this concept at work!
After a break, I attended the next session.
Raising An Artificial Intelligence
This was a great talk by Rick Tracy. He compared the training of AI with raising kids and suggested alternative ways and methods to raise and think about AI. As he approached this topic from a neuropsychologist angle, it was very sound information and made us think more about this topic. One of my personal highlights!
I needed some more time for myself at this point as my own talk was coming up.
Identifying Code Smells
This was my own talk which I had done a few times at other conferences before. To be honest, this time it didn't work as well as the times before. The main reason was that I did not adapt it enough to my audience of testers and did not provide enough actionable advice. It is very developer focused and contains a lot of quick-fire information in a short time which was too overwhelming in this setting. Fortunately, I received feedback on this and was not left in the dark so I can rework the content and message of this. For me, it's not a shame to admit it, but a way to learn from it and improve it. In this sense, it was totally worth it!
After some more social activities, the last keynote of the day followed.
Knowledge Gaps and the Quest For Rapid Feedback Loops
Richard Bradshaw from Ministry of Testing delivered a great closing keynote on the importance of feedback loops and analysing one's knowledge gaps. He showed ways to do that efficiently to improve exploratory and automated testing, understanding problems and making the right decisions. This was a perfect closer as it summarized pretty much all the talks that came before!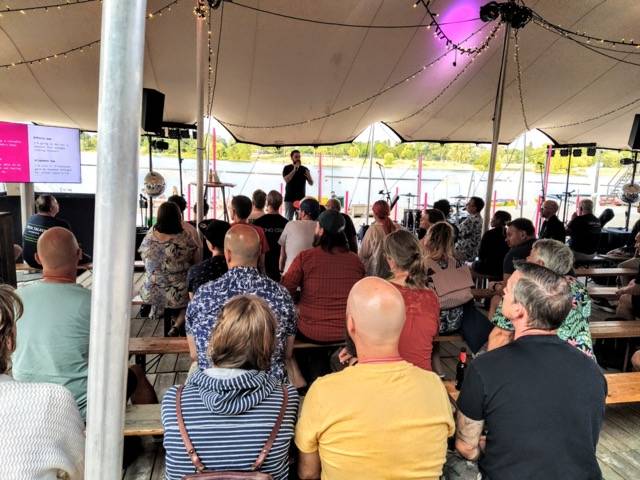 Conclusion
Even though I was skeptical at first whether a conference on the beach is a good idea, I have to say: yes, it is. I have rarely seen such a relaxed, safe and friendly atmosphere as here. However, this can also mean that you have to skip a lecture or two in order to lie on the beach and look out over the lake. In the sense of self-care, however, this is not a disadvantage and expressly desired!
I am very happy that I was able to participate and would do so again at any time.
Thank you AgileTD, that was fantastic!
P.S.: If you are interested in another perspective, Alex Schnapper wrote a review on his blog as well.